Welcome to DOGZ CLUB

We know you love your dog and you feel guilty every time you have to leave them home alone for long periods of time. Many dogs experience separation anxiety if they have to be left alone all day. They may destroy furniture, bark nonstop or have accidents amongst other things. Try our services for one day. You'll wonder how you managed without us!

Call us on

07968 505847

for more information.

Doggy Day Care in Stockport

Our pets are much like us, they require regular exercise, attention and interaction with others to make sure they remain happy and healthy. We understand that it can be difficult for you to find time in your busy schedules with work and family commitments. At DOGZ CLUB we offer an alternative - we will give your dog hands on love when you can't.

Call us on

07968 505847

for more information.
Join The DOGZ CLUB Today
The DOGZ CLUB is a purpose built Doggy Day Care Centre based in Stockport town centre. We have over 4000 square feet of indoor space divided into rooms that cater for dogs of different sizes and energy levels. Our friendly and highly experienced carers organise activities, such as exercises with ball games and bubble play with upbeat music keeping your dog entertained and happy all day long.
The moment your dog steps into DOGZ CLUB for the first time, he or she becomes part of our family. This is their first step to becoming a more relaxed, socialized, and well-rounded dog. Every day, we provide quality attention in a safe place where your dog can have fun with other dogs and a variety of activities and games, so they will not feel lonely or bored, and allowing them to make new friends. It will also allow them to exercise to their hearts content and get rid of that pent up energy. We mix things up each day, to keep things interesting, and you can be sure that your dog will have an excellent night's sleep. Call Us on
07968 505847
for more information.
Affordable Daily Care For Your Dog
At DOGZ CLUB we like to make our prices affordable to all dog owners so our doggy day care prices start from just
£12 for a five hour session
. If you book regular sessions in advance you can
save up to an amazing 20%
when you buy our affordable multi-day passes. Click the button below to find out more.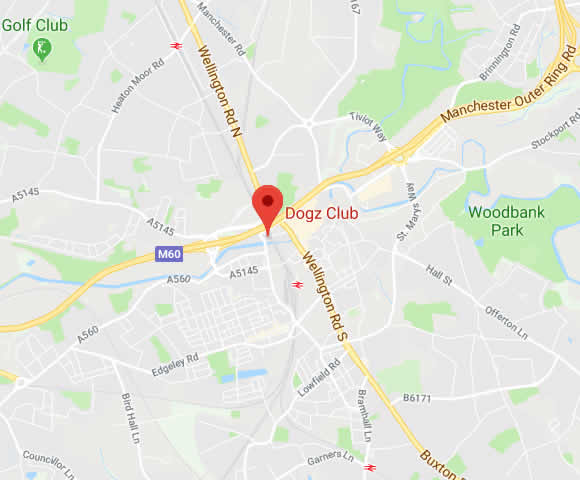 How To Find Us
DOGZ CLUB is conveniently located in the heart of Stockport town centre, next to Kwik Fit, just off the Pyramid Roundabout on the M60 and only a few minutes walk from Stockport Train Station and the Merseyway Shopping Centre. Click on the map or the button below to open up Google Maps and get directions to DOGZ CLUB.

Professional Dog Grooming
Whether your dog needs a complete clip down or just a bath and brush out, DOGZ CLUB provide a professional and affordable solution to all your dog grooming requirements. What better than a day of fun and frolics at the DOGZ CLUB then a pampering session by our professional, fully trained and insured dog groomers!

Opening Times
MON- FRI: 07:30am – 6:30pm
SAT: 08:30am – 5:00pm
CLOSED SUNDAY
Requirements
• Dog must be over 3 months old
• Dogs over 7 months old must be spayed/neutered
• Must be upto date with vaccinations (proof required)
• Dogs must be friendly and sociable around humans and other dogs